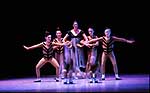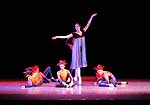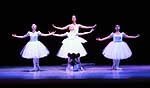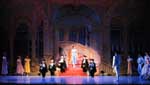 Cinderella - the ballet
April 10 and 11, 1998 - Hering Auditorium
Produced by the North Star Ballet Company



Choreographer: Norman Shelburne
Set & Costumes: Celeste Sullivan
Lighting Design: Kade Mendelowitz


Heather Klemm danced the role of Cinderella with Timothy Lacatena as the Prince. The roles of the Stepsisters were created by Lily Simmons and Kristy Murphree. Guest artist Sara Wilbourne danced the part of the Stepmother and Cynthia Marias danced the role of the Fairy Godmother.

In the North Star Ballet production of the classic fairy tale, the gentle Cinderella, who is cruelly used by her Stepmother and Stepsisters, finds joy in the simple beauty of the mourning sun, in the crickets that inhabit the stone wall, and in the flames and embers of the fire at evening. Aided by the magic of her Fairy Godmother, Cinderella attends a lavish ball given by the Prince and they fall in love. At the stroke of midnight, however, Cinderella rushes away and the Prince is left with only her tiny slipper lost in the haste of departure. To find her, the Prince searches the city even trying the shoe on the Stepsisters. When all seeems lost, Cinderella steps forward holding the other slipper and their love is reunited.