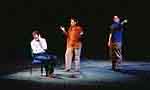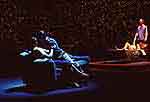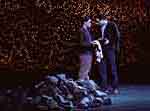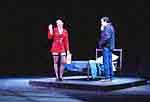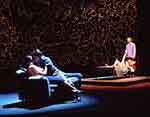 March 29 - April 7, 2002
Salisbury Theatre
Produced by the University of Alaska Fairbanks Theatre Department.
Cast

Kyle Kalke
Michael Karoly
Bennie Locasto
Charles Pierce
Serena
Gwendolyn P. Brazier
Kathleen
*Heather Maas

Production Crew

Stage Manager
*Becky Olson
Scenic Designer
Kade Mendelowitz
Technical Director
Kade Mendelowitz
Assistant Technical Director, Moon Maker
Leighton Nunez
Crew Supervisors,
Margaret Bonnell, Zeke Daubney
Scenic Running Crew
Christopher Geer
Costume Designer
Tara Maginnis
Costume Shop Manager
Lorraine Pettit
Costume Crew
Erin Raymond, Stephanie Stowman, Carrie Seward
Dresser
Jacob Flechsing
Lighting, Star and Moon Designer
Kade Mendelowitz
Master Electrician, Chief Star Technician
Margaret Bonnell
Electricians & Set Crew
*Tamar Geist, Shannon Colburn,
Light Board Operator
*Jennifer Garcia
Sound Designer
Kade Mendelowitz
Sound Crew
*Stephanie Stowman, *Matthew Krell, *Becky Olson, Anita Ashbaugh, John Wells, Jeremy Hoover, *Christine Burgess, Shannon Fett, *Tamar Geist
Sound Board Operator
Brandon Fraiser
Department Coordinator & Box Office Manager
Maya Salganek
Ticket Sales
Dana, John, Kari Carney, Mary Bryant
Playbill, Poster
Kade Mendelowitz
---
This page, these photos, and all other contents are ©2005 Kade Mendelowitz. Persons copying them or making other use without permission may be subject to penalties, fines, and in extreme cases imprisonment.

---